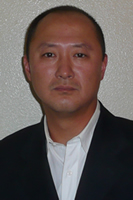 Sang Park, Director of Technology
Education: BA in Business Administration from CSU Fullerton and a Masters Degree with a concentration in Information Architecture from SJSU. He is Security+ Certified.
Sang began his career as a systems administrator at a production company in Los Angeles in 1994 and has continued his technical career with institutions like NASA, the University of California systems, and the US Navy. His extensive technology background has grown over the years and has never left him looking for work. This is because his skill set and level of knowledge has placed him in high demand. QbizA is extremely fortunate to have secured him as a key partner.
The melding of Sang's Business Background with is extensive IT experience helps him to not only understand the "how to" but also the "why" in building databases and helping direct the technical direction of QbizA.

Personal Comments

"As we grow up, we learn that even the one person that wasn't supposed to ever let us down probably will. You'll have your heart broken and you'll break others' hearts. You'll fight with your best friend or maybe even fall in love with them, and you'll cry because time is flying by. So take too many pictures, laugh too much, forgive freely, and love like you've never been hurt. Life comes with no guarantees, no time-outs, no second chances. You just have to live life to the fullest, tell someone what they mean to you and tell someone off, speak out, dance in the pouring rain, hold someone's hand, comfort a friend, fall asleep watching the sun come up, stay up late, be a flirt, and smile until your face hurts. Don't be afraid to take chances or fall in love and most of all; live in the moment because every second you spend angry or upset is a second of happiness you can never get back."